Let's get it out of the way: giving someone a fragrance as a present can be a tricky thing to get right. We all know that scent preference is personal; but to give someone a bottle of perfume they really love— now that makes for a truly special and memorable gift. A Rockwell Insider shares four tips for picking out a fragrance for a dear friend, loved one, or even for yourself.
1. Look for clues.
The person on your list may already have a go-to scent. You'll spot it on their dresser or desk, or you might even catch a whiff of it when they walk by. There are many different scent profiles and note combinations, but you can narrow down your options by  finding out what types of fragrances they prefer, or even which fragrance houses they tend to gravitate towards.
2. Consider their personality.
Outdoorsy and active types might favor fresh, citrusy, or aquatic scents. The life of the party may go for something sweet and strong. What are this person's day-to-day activities like? What are their interests and passions? Think of three words to describe this person, and from there, match the scent profile with the giftee.
3. Make it unique.
Some stores even offer customization services, like Diptyque's bottle engraving promo, which will run until December 13, and Scentsmith Perfumery's  and personalized perfume labels. Some fragrances like a Jo Malone can be worn on its own, or layered for a bespoke effect. Why not give an unexpected combination they can truly call their signature scent?
4. Give the gift of variety.
Can't decide on just one or two scents? Go for a fragrance wardrobe or discovery set. Usually, these are collections of a fragrance house's best sellers that cover a variety of scent profiles, so you can be pretty sure that the recipient will find something to their liking.
Here are the scents I've picked out for some of my favorite people on my Christmas list.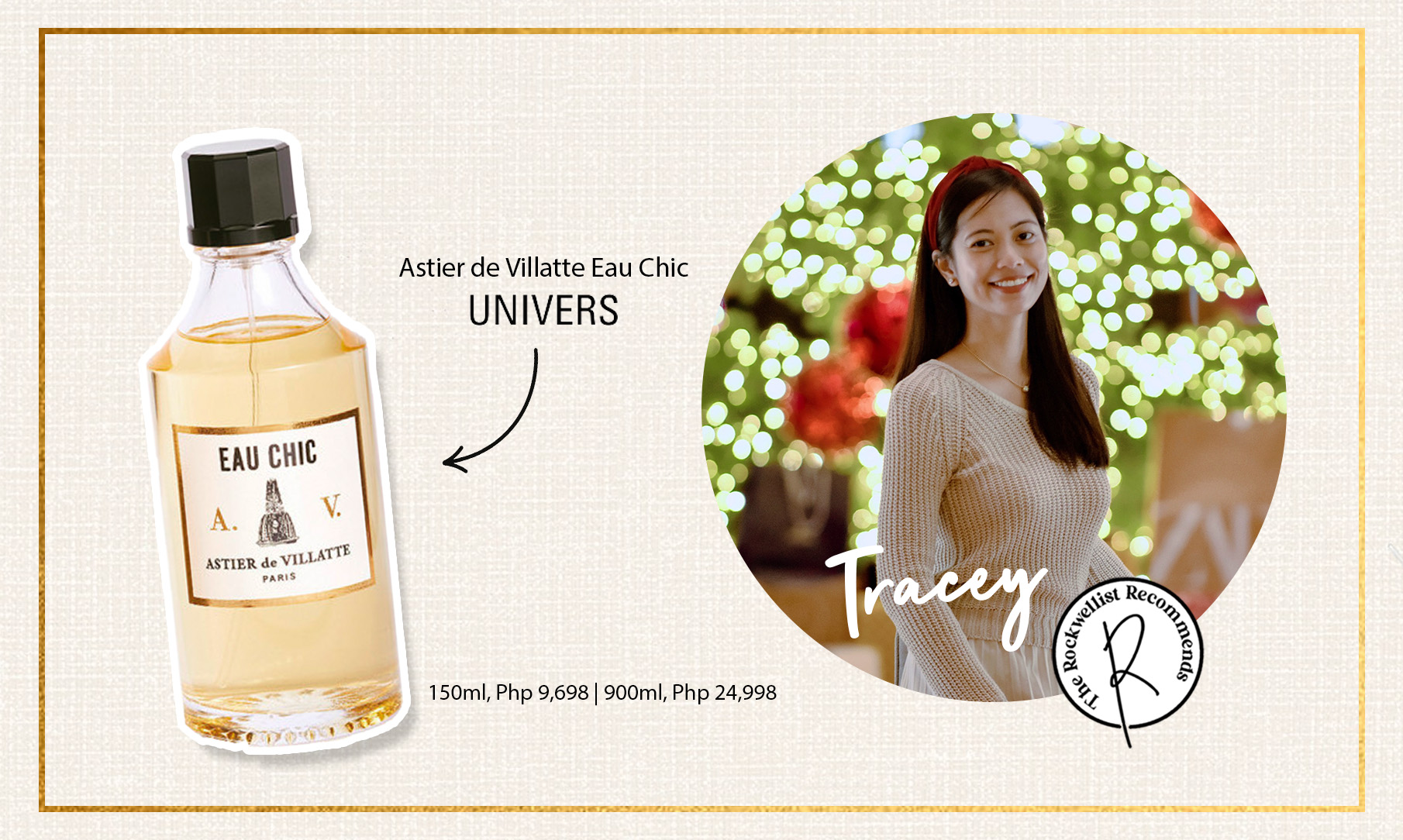 Tracey
Astier de Villatte Eau Chic, 150ml Php 9,698 | 900ml Php 24,998
UNIVERS, One Rockwell
Tracey embodies sophistication with laser-sharp focus. For her day-to-day scent, I've chosen Astier de Villatte's Eau Chic. It's a fuss-free, light, citrus floral scent that you can spray liberally when you want to feel refreshed and ready to power through a marathon of meetings for the day.
Tin
Aerin Hibiscus Palm, 50ml Php 7,100 | 100ml Php 10,350
Estée Lauder, R1 Level
For Tin, I've chosen a fun fragrance that whisks you off to the tropics with just one whiff. It's a fun, light scent that's wearable all-year round. It's a nice balance between watery and creamy, coconutty, and floral.
Boboy
Heeley L'amandiere,  100ml Php 11,498
UNIVERS, One Rockwell
For the fabulous baker and advertising coach, I've chosen L'Amandiere, an interesting fragrance that hovers between a gourmand and a floral— in the hopes of capturing two of his passions in one olfactory experience. It smells almost as if you're under an  almond tree, surrounded by  budding spring flowers, with a tartelette amandine in hand.
Jelly
Scarlet Poppy Cologne Intense, 50ml Php 7,700 | 100ml Php 11,500
Jo Malone, R1 Level
Warm, sweet, cozy, and subtle. Jo Malone's Scarlet Poppy captures Jelly's personality in a cute red bottle. This scent gives off a soft, creamy, vanilla vibe that's hard not to love.
Anina
Herbae Par L'Occitane Eau de Parfum, 90ml Php 5,600
L'Occitane, R1 Level
Herbae Par L'Occitane's fresh green fruity floral notes capture Anina's light and effervescent personality. It's a sunny fragrance that's a little unexpected.
Karlo
Heeley Note de Yuzu 100ml Php 11,498
UNIVERS, One Rockwell
For a vibrant explorer like Karlo, the bright, citrus marine fragrance Note de Yuzu was an easy choice. This collaboration between French perfumer James Heeley and Maison Kitsuné brings us a combination of photorealistic yuzu and seabreeze, which dries down to a comforting powdery musk with some vetiver.
Pat
Aerin Ikat Jasmine, 50ml Php 7,100 | 100ml Php 10,350
Estée Lauder, R1 Level
Ikat Jasmine is the perfect match for Pat. It's a sweet combination of white florals— jasmine, tuberose, and honeysuckle that delivers a clean, soft, pretty, and bright feel.
Keanu
Diptyque Kyoto Eau de Parfum, 75ml Php 9,150
Diptyque, R1 Level
For the artist of the team, I chose Kyoto by Diptyque. Every detail of this fragrance— the blend of notes, bottle design, and the furoshiki packaging feel so meticulously crafted. This is a scent that takes you on a journey. It starts off bright and tart, then some sweetness comes in, and finally develops into something deep and woody.
Sonya
Tuberose Angelica Cologne Intense, 100ml Php 11,500
Jo Malone, R1 Level
This fresh take on tuberose that's quite captivating but never overpowering is my pick for Sonya. The sweetness of tuberose here is perfectly balanced with the freshness the angelica brings.
Nico
Vibrant Leather Oud, 60ml Php 1,145 | 100ml Php 1,695
Zara, R2 Level
Vibrant leather oud is a light woody amber fragrance with hints of citrus that peek out here and there. It's the perfect gateway fragrance for someone playful and energetic like Nico.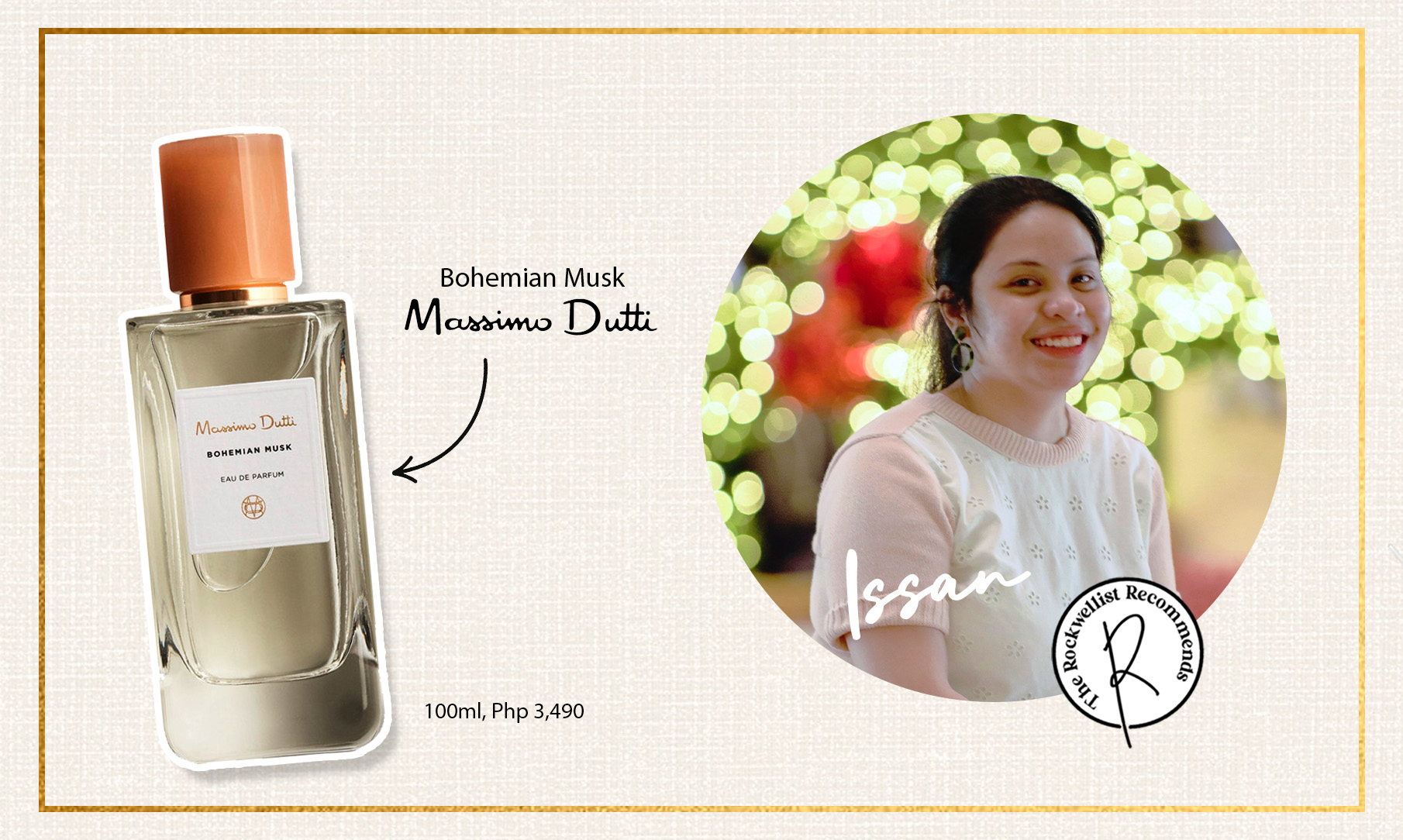 Issan
Bohemian Musk Eau de Parfum 100ml Php 3,490
Massimo Dutti, R1 Level
For Issan who typically shies away from perfumes, I've picked out a soft, unintimidating, powdery floral scent. Bohemian Musk combines the brightness of jasmine and bergamot with amber and cedar to ground the fragrance.
Elise
Do Son EDP limited edition bottle, 75ml Php 9,150
Diptyque, R1 Level
This Christmas, I'm treating myself to a special limited release of a fragrance I already love. Do Son's watery tuberose scent is beautifully complemented by the 2021 bottle design featuring a gilded illustration of Ha Long Bay, the olfactory landscape of this iconic perfume.