From ramen and shabu shabu, to burgers and cocktails —here are all the delectable treats you can enjoy in the comfort of home. Have you been dreaming about a hot bowl of ramen or maybe a few rounds of shabu-shabu?
Good news! You can now enjoy them at your very own dining table.
That's because the restaurants at Power Plant Mall, Santolan Town Plaza and The Grove Retail Row continue to serve their sumptuous professionally-crafted dishes that you can order as DIY meal and beverage kits — so you can enjoy a premium dining experience at home.
As you do your share in the fight against the COVID-19 pandemic and dutifully quarantine, it's good to know that you don't have to miss out on your dine-in favorites.
So have the meals you've been craving for delivered right to your doorstep. The safety, ease and convenience of bringing home a restaurant DIY food kit is a service that's also available from the Rockwell In & Out drive-by service at Power Plant Mall.
The Food and Beverage industry continues to be resilient amid a challenging business climate, with eating establishments adapting to and coming up with DIY kits to continue serving their valued clients. Support local restaurants by patronizing these delicious and convenient ready-to-prepare treats!
JAPANESE
We miss the "Irrashaimase" greeting us at our favorite Japanese restaurants, but thankfully we don't have to miss out on the "oishi" Japanese cuisine experience.
Tsuke-Men
This nippy weather is perfect for a warm and hearty bowl of delicious ramen, and you can definitely enjoy this through a hassle-free DIY Tsukemen, Tantanmen or Tonkostu kit. (Power Plant Mall: The Grid)
Ooma
Get crackin' and enjoy the crisp-meets-shrimp goodness of Ooma's must-try masterpiece, Ebi Tempura. (Edades Tower and Garden Villas)
Hanamaruken Ramen
With just one order of Hanamaruken Ramen's easy-to-cook ramen kit, you can already enjoy two tasty servings of Signature Happiness Ramen, Pot Belly Ramen, or Spare Rib Ramen— all guaranteed to make your tummy happy. (Santolan Town Plaza, The Grove Retail Row)
Healthy Shabu-Shabu
Imagine the assorted meat and vegetables all cooked in a flavorful broth, ready for you to enjoy with your loved ones. Healthy Shabu-Shabu offers Cook-At-Home kits good for two in meat (chicken breast, pork loin, pork belly, beef striploin, beef tenderloin, Angus beef ribeye and beef short ribs) and seafood sets (shrimp, fish fillet, and assorted seafood). (Power Plant Mall)
Ganso Shabuway
A ray of sunshine on cold, gloomy days, Ganso Shabuway's delicious Shabu-Shabu Home Kit is ready for you to dig in. The shabu-shabu set for two includes freshly sliced beef, vegetables and broth all sealed in food grade bags for guaranteed freshness. (Power Plant Mall)
Champion Hotpot
Feast on ready-to-prepare Easy Hotpot Kits from Champion Hotpot. Enjoy classic favorites available in three tier sets: Special Set, Sukiyaki Set and Premium Set. Each set serves two to three people, and comes with Champion Hotpot's signature broth, sauce, meat, noodles, veggies, and assorted balls. (Santolan Town Plaza)
SOUTHEAST ASIAN
Spice up your home meals with all the Southeast Asian dishes to indulge in to your heart's content.


Babu Take Home Kit (The Grid, Power Plant Mall)

Babu
Babu whipped up the gift of these mouthwatering DIY Laksa Kits that will satisfy your craving for this creamy, flavorful dish with its irresistible spicy bite. (Power Plant Mall: The Grid)
Corner Tree Cafe
Stay safe and healthy at home with Corner Tree Cafe's tasty vegetarian DIY kits that bring you such treasures as Vegetable Thai Curry, Spinach Feta and African Stew. (Power Plant Mall)
WESTERN-STYLE COMFORT FOOD
Ah, comfort food tastes extra good when consumed in the comfort of home. Grab a bite of these reliable Western staples that we can never seem to stop craving.

The Test Kitchen Ready To Cook/Eat Truffle Pasta (One Rockwell)
The Test Kitchen
Set your table with these gustatory delights from The Test Kitchen's ready-to-cook and eat menu, like Ribeye, Creamed Spinach & Mashed Potato, Truffle Roast Chicken, Poached Salmon, Lemon Saffron Risotto and more. (One Rockwell)
Refinery
Every day can be Friday, and every hour is happy hour with the Refinery Cocktail Kit. Raise a glassful of Mimosa, Tom Collins, Negroni, Reposado Margarita or any of the available cocktails as you toast with your friends at the next Zoom drinking sesh. (Joya Lofts & Towers)
8 Cuts
Enjoy quality, meaty burgers at home with 8Cuts' easy-to-prepare Frozen DIY Burger Kit. (Power Plant Mall)
Scout's Honor
Be an instant pastry chef with Scout's Honor's Dough-It-Yourself Cookie Kit available in Ultimate Chocolate Chip, Cashew Macadamia and Oatmeal Cranberry. A 1-kg tub of cookie dough can make up to 20 cookies! (Santolan Town Plaza)
Sunrise Buckets
No need to look further to fill that desperate craving for flavorful, crispy chicken wings! Sunrise Buckets gives you premium access to its frozen chicken wings and bottled sauces so you can marvel at its goodness at home. (Power Plant Mall, Santolan Town Plaza, The Grove Retail Row)
Bucky's
Brownies and pancakes? Say no more. Bucky's got your pastry cravings covered. Mix it up at home with Bucky's DIY set which includes the Not-A-Brownie Original Mix, Buttermilk Pancake Mix and Sal Salted Caramel Sauce. (Power Plant Mall: The Grid)
CHINESE
There will always be room for flavorful and fragrant Chinese cuisine in our hearts and tummies, maybe even more so as we shelter in place.
8 Treasures Frozen Dimsum and More (Power Plant Mall, Santolan Town Plaza)
Din Tai Fung
DTF goodness can now be savored at your very own place. Order the exciting cook-to-eat sample of Din Tai Fung Wonton in House Special Spicy Sauce. (Power Plant Mall)
8 Treasures
Craving dimsum and noodles? 8 Treasures will make sure you're well fed with its frozen ready-to-eat tasty offerings such as siomai, hakaw, XO noodles, curry and beef balls. Go and fill your tummy with these treats! (Power Plant Mall, Santolan Town Plaza)
SPANISH
Every now and then, a yearning for delicious Spanish fare takes hold of us, so we seek for ways to satisfy our palates with its distinct taste.
Barcino
Looking to pair a good wine with hearty, delicious food? Barcino comes through with its Paella Making Kit available in three variants: the Paella Negra Kit, Paella Chorizo y Pollo Kit, and Paella Mixta Kit. The kit comes with rice, toppings and (bless their hearts!) paella stock, with complete instructions to ensure no-fail home cooking. (Power Plant Mall, Santolan Town Plaza)
FILIPINO
Masarap! Nothing can satisfy you like Filipino food when you're looking for something that's comforting, flavorful and so very delectable.
Manam
Is your sisig even Manam-good? Don't fret. You can now make sure of a premium sisig experience and fulfill this great Pinoy craving with Manam's Heat-to-Eat House Crispy Sisig. Available now for you and your loved one's hearty consumption. (Power Plant Mall)
Pancake House
Pancake House is more than just about pancakes. It serves excellent Filipino frozen meals like Pork Vienna, Daing na Bangus, Fish Rolls and Beef Tapa. All ready to be paired with your servings of rice at home. (Joya Lofts & Towers, Santolan Town Plaza)
Milky Way Cafe
It takes serious culinary skills to serve the kind of delicious dishes that Milky Way Cafe does, but they're always ready to lend their expertise. Their signature meals are now available for home consumption, including Adobong Pusit, Chicken Pandan, Massaman Lamb Curry and Slow Roasted Beef Belly with Horseradish Sauce. (Power Plant Mall)
KOREAN
Home quarantine has got many of us addicted to K-dramas, with strong cravings for mashisoyo K-cuisine. Thankfully, this is now easily accessible.
Kaya Restaurant
Kaya steps up to fulfill our K-cravings with its frozen items like Kalbi, chicken set and to-die-for mouthwatering banchan (side dishes) just like the ones we always see in our favorite Korean dramas. (Power Plant Mall, Santolan Town Plaza)
INDIAN / MEDITERRANEAN
Not to be outdone, Indian and Mediterranean cuisine always has a place in our hearts, and our palates are in love with the rich flavors and textures of their dishes.
Om Indian Kitchen
Om Indian Kitchen will satisfy your cravings for Indian cuisine with its ready-to-prepare Frozen Samosas, Naan/Kulcha, Hummus and Falafel offerings. Savor the flavor and order now. (The Grove Retail Row)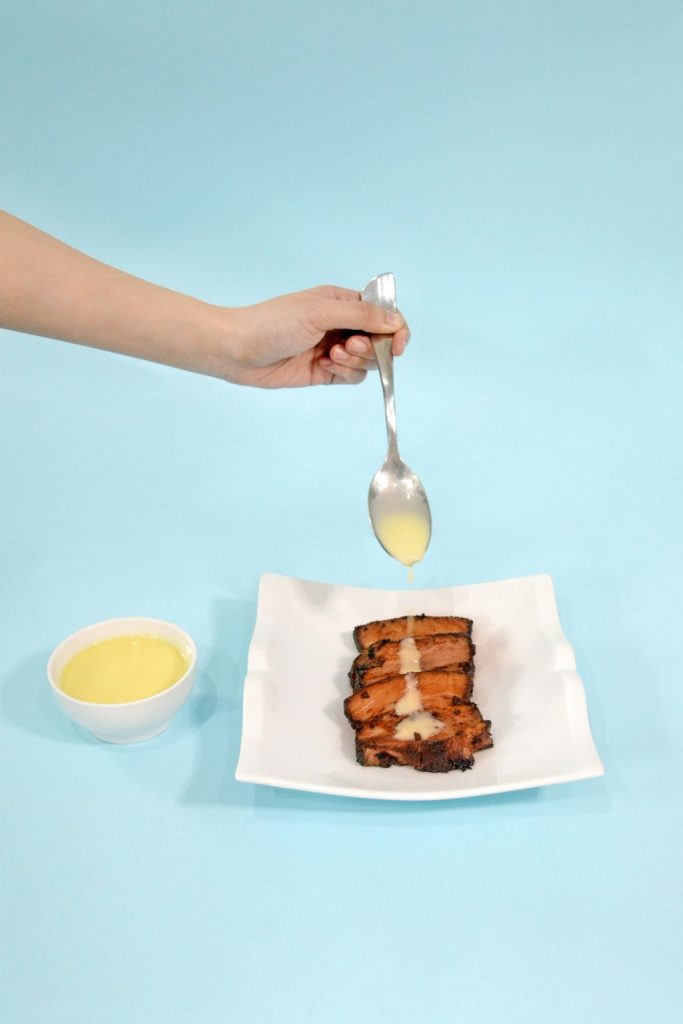 Shawa Wama
Beef up your meals with Shawa Wama's cook-to-eat Primo Beef— a 12-hour sous vide beef slab that pairs wonderfully with rice, pita, hummus and cabbage slaw.
For more information about these exciting DIY restaurant favorites, follow these Rockwell properties on Facebook and Instagram: Power Plant Mall (IG: @powerplantmall), Santolan Town Plaza (IG: @santolantownplaza) and The Grove Retail Row (IG: @thegrovebyrockwell).
This story originally appeared on Metro.Style.