Just as you are what you eat, what you surround yourself with reflects your personality and nourishes your living space. Now that we're ready to refresh our homes, we've curated these mood boards to help you create one that's truly your own. 
With Rockwell, you can pair the right interior with a community that fits your lifestyle, and build a space you'll love coming home to.
A bustling lifestyle for the Art Aficionado
Much like collecting art pieces, living a bustling lifestyle is a must for anyone who appreciates art in their home. Hotel rooms are a delight to visit, because of the paintings and figurines displayed at every turn, but it's not as exciting as knowing the place you go home to is just as artistic as your taste.
At Rockwell Center, staying in can be just as plush as staying at a hotel, with Proscenium at Rockwell's elegant yet high-spirited community. Designed by world-famous architect Carlos Ott, Proscenium is home to five residential towers—Kirov, Sakura, Lincoln, Lorraine, and The Proscenium Residences— that seamlessly redefine luxury living with its outstanding architecture and sophistication making its mark on the Makati skyline. 
If you want to liven up your unit, explore these accent pieces from Vania Romoff's home décor line, the Casa collection. These perfectly capture the Filipino artistry with raw marble designs created in collaboration with local design company, Ren Marble.
Merging a vibrant community with maximalist interiors— it's the delight of every art aficionado.
Shop the Casa collection online at shop.TheRockwellist.com, or visit Studio Vania Romoff at the R2 Level, Power Plant Mall. For inquiries, call (+63) 999 503 1222.
Seeking privacy and serenity in nature, for the Comfort Curator
With the home at the center of our lives today, you can never make your space too comfortable. Curate every corner for quiet mornings and relaxing evenings, and welcome a change of scenery outside that's just as calming.
For enjoying quiet, daily indulgences, there's no other place more welcoming than Rockwell South at Carmelray. Rockwell's first exclusive gated community in Laguna is home to lush landscapes, walkways shaded by trees, a Central Amenity area, and pocket parks spread across the estate that will offer an ideal respite from the busyness of the city.
Inside your spacious home outside of the metro, there's always room for items that give you the reassurance you need. Simple and quiet, these interior pieces from MAV Furniture will help you build a cozy space fit for lounging the afternoon away.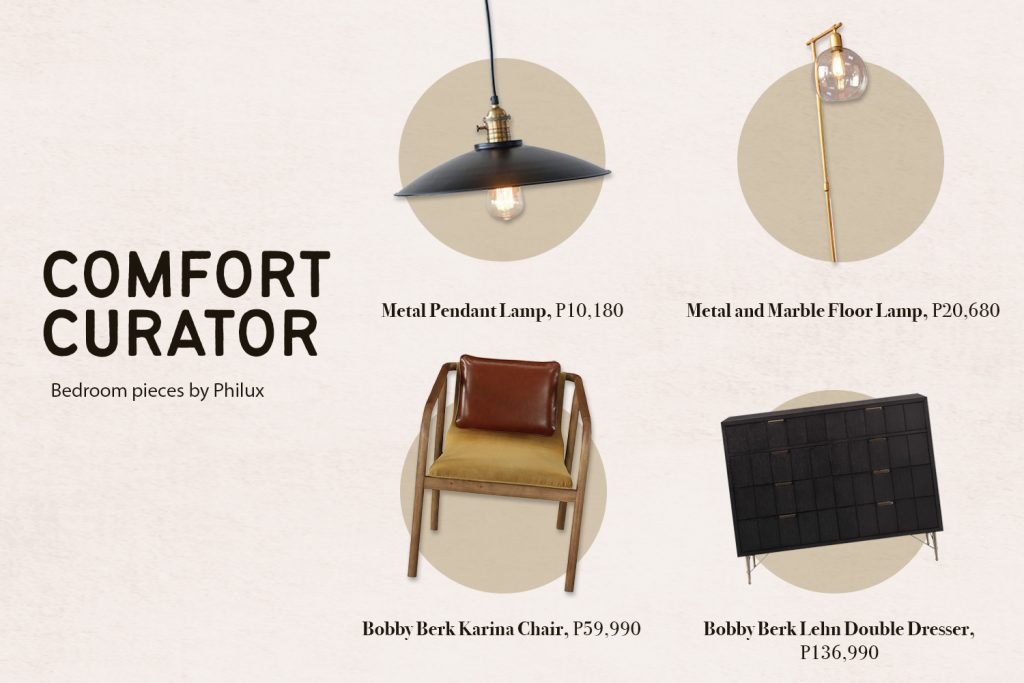 And when you merge the nature-centered community at Rockwell in Canlubang, Calamba, Laguna with these items, you wouldn't want to leave home.
​​Find these classic pieces from MAV Furniture at One Rockwell, Rockwell Center. For inquiries, call (+632) 7943 9052.
Sophisticated and comfortable living for the Modern Family
It's impressive how breathtaking views can create a serene and relaxed environment for any home. For the family-centered Rockwellist, nothing can beat convenience and comfort.
Rockwell's first high-end high-rise in Katipunan, The Arton is an ideal place for both work and play, especially for young families who are in want of a home that they can grow with. With units overlooking Sierra Madre, its prime location will put you within reach of all your needs at every life stage.
East Bay Residences by Primaries, a Rockwell Company, likewise offers a peaceful atmosphere without venturing far from the heart of Metro Manila. With spacious units and wide open spaces, families will surely find themselves living in ease at this Muntinlupa address. A curated Retail Row within the property also offers further convenience by providing you and your family easy access to daily essentials.
Create a home for those you hold dear with modern furniture items from Philux. Coupled with Rockwell's accessible location and pleasant community, you'll find that adding these to your interior will make bonding at home more comfortable.
Explore Philux's home items at the R3 Level, Power Plant Mall, or through their website at philux.ph.
Get an exclusive discount from Philux when you shop for your next interior project! Sign up for Rockwell Land's newsletters here from September 16 to 18, and receive a 10% discount code for Philux's website philux.ph. 
Learn more about Rockwell Land properties at https://www.e-rockwell.com/.