You are where you live.
Just as you are what you eat, what you surround yourself with reflects your personality and nourishes your living space.
After a year of staying in from day to night, it's time we refresh our homes to be more than just a place to eat and rest.
Whether you're an art aficionado who's always on the lookout for new pieces, or a comfort curator who wants to build a peaceful space, Rockwell makes your interior projects exciting with these home décor mood boards curated by fellow Rockwellists. Save these for your next shopping trip or use as inspiration and make your own!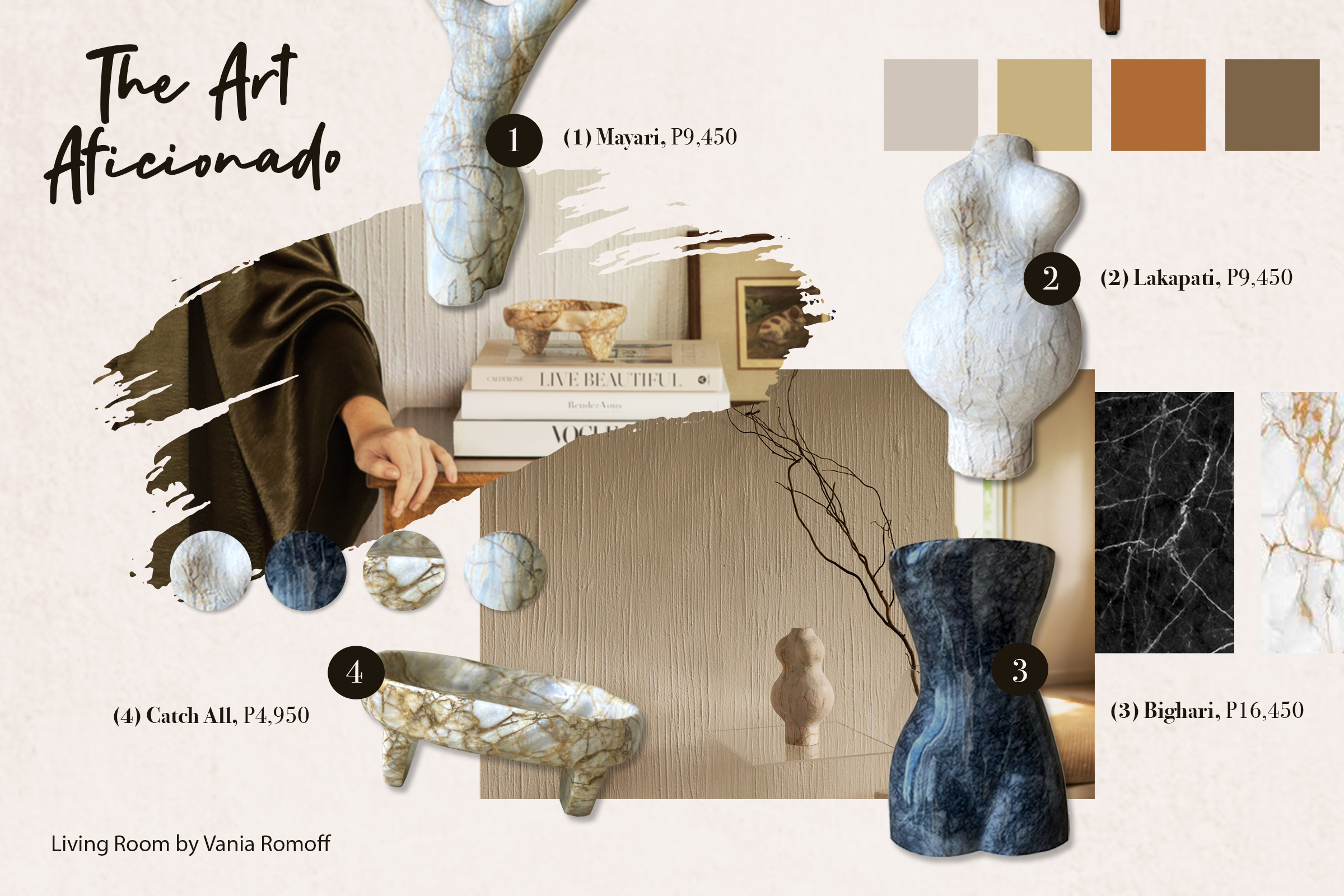 The Art Aficionado
For the lovers of art, these accent pieces from Vania Romoff deserve a spot in your abode. Those featured in this mood board are part of Vania Romoff's home décor line, a collaboration with local design company, Ren Marble. The Casa collection is made through the artistry of skilled carvers and sculptors, with raw marble blocks hand-picked locally in Romblon.
Taking inspiration from local mythical goddesses like Lakapati and Mayari, brand owner Vania Romoff explains that each piece is "curved and soft—an ode to the female body." The impressive attention to detail in these carefully designed items are meant to add life to every corner. 
And indeed, who wouldn't be thrilled to bring aesthetic excitement to a home? Minimalism is a thing of the past. "Your home interiors should make you feel good," brand owner Vania shares. "The process [of collecting and decorating] is exciting and fulfilling. It's a reflection of your individual taste and style."
The Modern Family
"Warm and welcoming" are words used by Philux CEO Stephanie Kienle Gonzalez and Head of Design Jessica Kienle Maxwell, when asked what it means to have a home for the modern family.
Representing a contemporary Filipino take on mid-century silhouettes, these items from Philux will give a comfortable, reassuring ambiance to any space. This mood board is curated by both Stephanie and Jessica for Rockwellists who are driven by a design aesthetic that's family-centered.
Love for family has always been ingrained in local culture, and Philux perfectly injects this to their ongoing collections made especially for the Filipino taste. "This year, we launched our first foray into outdoor living as the lanai has always been an integral extension of the Filipino home—be it for entertaining or for lounging around—and has grown to be a place many of us spend an increasing amount of time during the pandemic."
With the home at the center of our lives today, Philux helps us put our families first with interiors that build a sophisticated yet comfortable lifestyle for those we hold dear.
The Comfort Curator
What is a home if not a place to seek comfort in? MAV Furniture brand owner Eric Po shares his thoughts on being a Comfort Curator, "In our daily routine, we always tend to find a comfort zone in our houses, whether it be a corner of your living room or your bedroom. We look for our own personal space."
Bedrooms have always been a place to unwind after a long day. While each piece in this mood board may be simple and quiet, when put together, it creates a haven for its owner. 
More so during the pandemic, it's these spaces that help us cope with uncertainty. "Before, we took for granted the empty spaces and minute accents that now have become sources of inspiration. With nice cozy interiors and well-appointed furniture, we get to cherish even the most obscure corner as we spend more time in it," Eric explains. 
These handpicked pieces from MAV Furniture were curated to help you create a home you'll love being stuck in, especially during the lockdowns.
Learn more through their websites: Vania Romoff, Philux, and MAV Furniture.
Experience fabulous metropolitan living with Rockwell Land Corporation's array of properties fit for every personality. Read our feature to learn more about our communities for the Art Aficionado, the Modern Family, and the Comfort Curator.